(Note: This is a Wiki post that anyone can edit, by clicking 'Edit' in bottom-right corner)
Exploring platforms
Mentions
Add yourself here to get notified on updates: @aschrijver, @mariha, @nicksellen, …
Notes
@aschrijver: Note, this topic is locked, to ensure that wiki edits bump the topic to the top of the form. For general discussion use Hospitality exchange community considers moving to the fediverse ;)

@aschrijver: Without having experience with any platform, or having signed up, I have summarized some functionality which I 'scraped' from looking at the websites. In this wiki post we can further elaborate and look into some federation ideas. (My description below will be incomplete, and probably inaccurate, but its just to get things going).

@aschrijver: I hope this setup is useful to get a bit of an overview of things. Any feedback is welcome. Chat is in #hospex:matrix.org
Core domain: Allows Travellers to find and contact Hosts to arrange a Stay.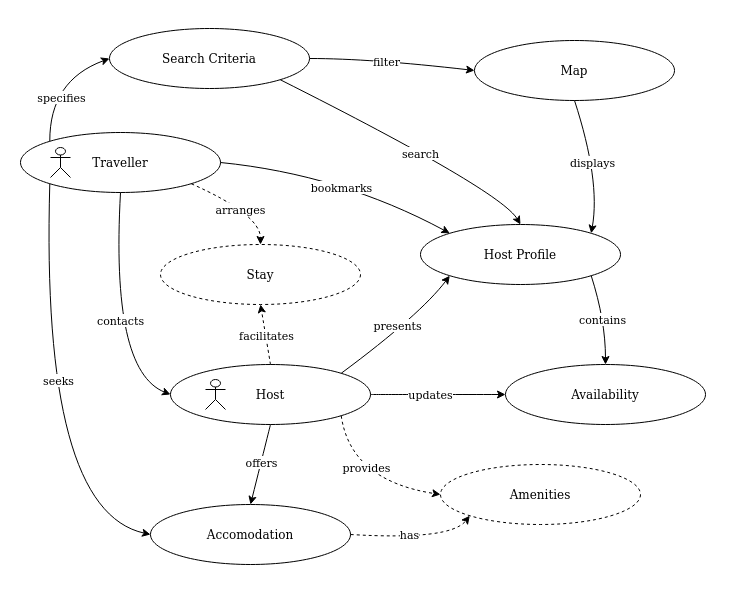 Actors:
A Host is a Member that provides a place to stay

A Traveller is a Member that seeks a place to stay
Ubiquitous language:
Host offers Accomodations to travellers

Host presents Host Profile to travellers

Host specifies Availability of accomodation

Hosts are displayed on a geographic Map

Traveller filters Hosts on Map by Search Criteria

Traveller searches Hosts by Search Criteria

Traveller bookmarks Host Profiles to return to later

Traveller contacts Host to plan their travel

Traveller arranges a Stay facilitated by a Host

Traveller might get Amenities provided by a Host
Other subdomains:
Notes:
A Community subdomain exists implicitly; all platform members together are the WarmShowers community.
Community core domain: Allows Members to join Circles to indicate their interests around specific Themes.
Hospitality Exchange core domain: Allows Members to find a Place to stay
Safety supporting domain: Allows Members to block other Members or report them to the safety team.
Social supporting domain: Allows Members to present themselves, provide feedback about their experience and manage contacts.
Messaging supporting domain: Allows one-to-one Member communication, about hosting, or general chat.
Meet supporting domain: Allows Members to show interest to meet-up in person for non-hospitality related purposes.
Membership generic domain: Allows Members to register on the platform.
Click here to view Domain elaboration ...




TODO elaborate

---
Federation brainstorm
(Note: This is brainstorm, so anything goes, criticism/restrictions come later
)
Membership domain is the same functionality that any federated (microblogging) app has.

Members / Member Profiles might also be exposed as regular microblogging actors, even though from a HospEx web or client UI they have additional functionality.

Direct Messaging might have to be encrypted, because e.g. addresses, trip details are exchanged.

Discovery needs some more exploration, how to search hospitality offers across instances? Respecting (maybe opt-in/allowlist style) intentions.

Related topic of discovery of instances (in the scenario where there are many small instances, like fediverse microblogging)

Note that a Host (taking the example of WS) does not need to provide Accomodation. They may also provide help in any form (e.g. amenities), such as offering repair for flat tires, dry shelter when it rains, just the shower/drinking water, breakfast or dinner, etc.

This is interesting as a way to strengthen both the travel support network, as well as community aspects.