Hi everyone, I'm going to share the concept and implementation of AcitivityPub at an annual open source conference (COSCUP 2023) in Taiwan. Among other things, I would like to introduce the history of AcitivityPub and its origins, so that the audience can understand that free social media is a long term effort.
I made the following simple timeline (it is still a draft).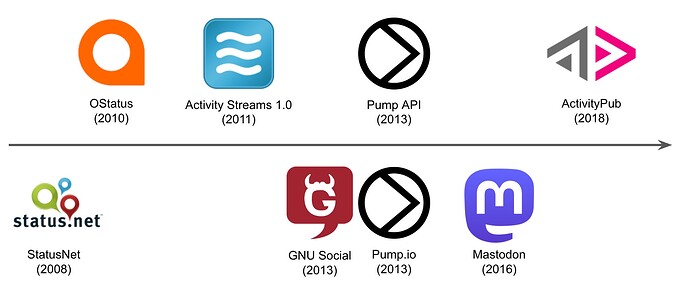 In this diagram, the open source protocols are listed at the top, and the main applications are listed at the bottom. For the open source protocols, I use version 1.0 as the time stamp. For the application part, I have listed the approximate start time.
My understanding is that OStatus was the most well-known early free social media protocol, adopted by StatusNet and gradually replaced by the Pump API, which can be considered as the successor of OStatus. At the same time, at the source, OStatus, Activity Streams 1.0 and Pump API are all origins of ActivityPub.
In the application part, GNU-social and Pump.io are the successors of StatusNet, and Mastodon also used OStatus in the early days, but then completely switched to ActivityPub.
I would like to know everyone's opinion on this discourse and timeline. Because there is not much information, my organization is likely to be problematic. I would also like to ask if there are any applications or protocols related to the origin of ActivityPub that I have missed in this historical overview.