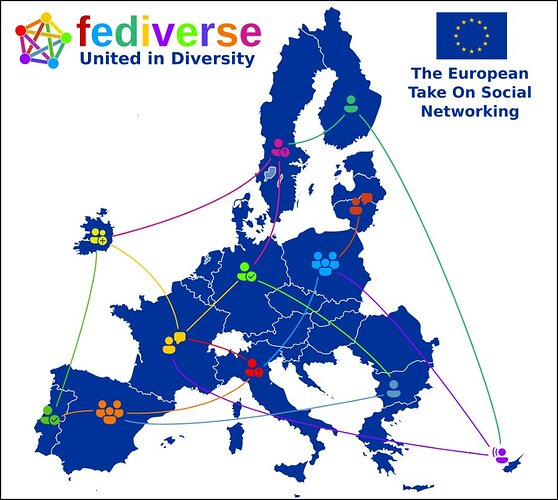 As you are likely aware the European Data Protection Supervisor (@EDPS@social.network.europa.eu) recently started a pilot project on the Fediverse and launched the #EUVoice and #EUVideo mastodon + peertube servers with official EU accounts.
On the #EUVoice mastodon server you can explore the profiles already present, and more may be added in future.
The project is a pilot. As it is for most people the Fediverse is still unknown terrritory to the EU representatives. Those operating this new channel don't know if it is worth their time, and how they can get most value from their interactions. Fediverse is much different than corporate social media. And as we know much better

But a lot of the do's and don'ts are unknown. The EU representatives need your help. It is important that the pilot succeeds, as much more follow-up may result that is to the benefit of all fedizens. The operators need our help
Organize a Fediverse training
Who is interested to help organize, plan an "Explore the Fediverse" training?
You will coordinate with contact persons from the EU institutions to set things up. The training could be online, but it may also be held in Brussels in the parliamentary buildings where you'll meet the trainees in person. It is up to you to arrange this according to your wishes. As organizer you'll be in charge of the format.
Some topics that should be addressed:
How is the Fediverse different from corporate social media? What exciting opportunities exist?
Tutorial on the functionality of Mastodon and Peertube to make the most of the software.
Explanation of Fediverse culture, the do's and don'ts and the unwritten rules of Fediquette to take into account.
Handling a Q&A Ask-me-anything session to address the curiosity of participants.
The event should strive to convey the meaning of our slogans:
"United in Diversity": How the Fediverse fosters a truly diverse culture where people collaborate and flourish. A Peopleverse!
"Social Networking Reimagined": The enormous potential to "Do Social Right" this time, and go way beyond walled garden silo's.
The event is ideally recorded and placed online on the #EUVideo instance. If it is remote vidcall format it may be open to anyone to join, but moderation should take that the primary audience is best served.
---
If you are interested to participate in the organization, please respond to this SocialHub forum topic, or ping me on the Fediverse at @humanetech@mastodon.social. The more people the better, so that tasks can be divided.
See also my announcement of this topic on fediverse and FediverseFutures lemmy post.